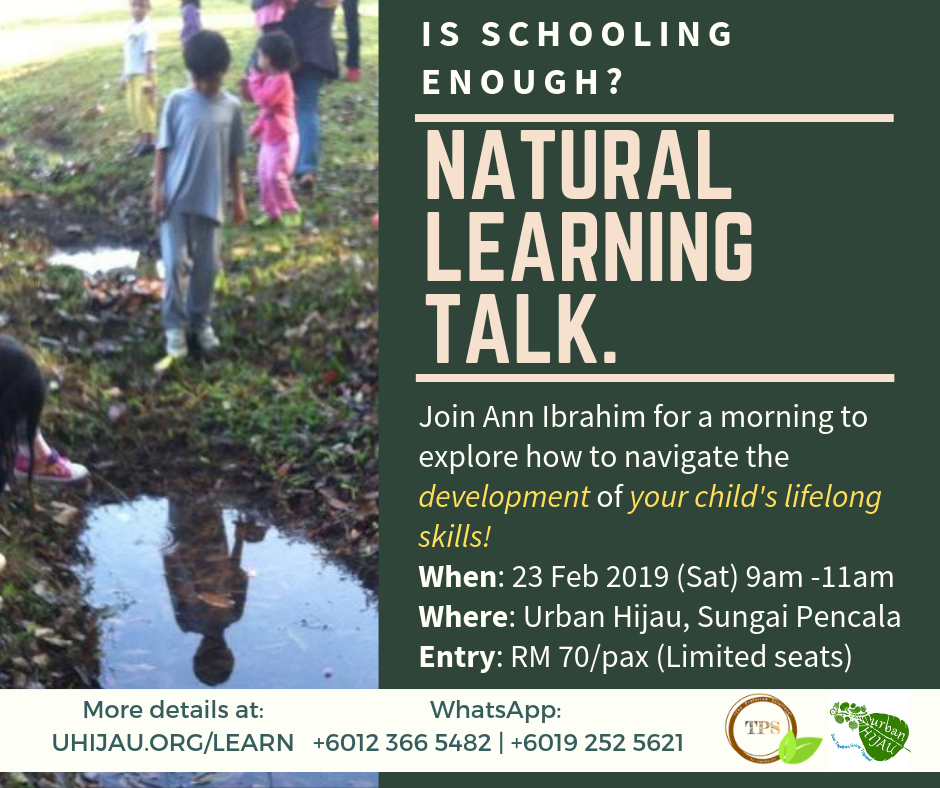 Natural Learning Talk
Live.Love.Learn
Dates: 23rd February 2019 (Saturday)
Location: Urban Hijau (Training Room), Sungai Penchala, Kuala Lumpur
Instructor: Ann Ibrahim
Time: 9:00am – 11:00am
Format: Morning interactive session.
Contact:+6012 366 5482 | +6019 252 5621
Fee: RM 70 / participant (Seats are limited)

Breakdown:
What is Education
Learning Philosophies
Natural Learning
Available Options
Alternative Options
Teaching your Own
Decision Making
How to Begin
Practical Implications
Support
More details:
Planning to prepare your child for a fulfilling, productive life but feel that conventional schooling doesn't fulfil all these needs?
Are your children developing the right lifelong skills to navigate and explore today's changing world and environment?
Are they falling between the gaps or finding it hard to fit in and maximise their own potential?
Looking for ways to supplement or explore alternative education options for your child?
Wanting to homeschool but don't know where to start?
The Natural Learning Talk discusses these issues and provides you practical advice and options to begin your child's personalised lifelong learning journey.
We aim to facilitate creative-thinking, entrepreneurial, productive, God conscious, responsible, adaptable and principled citizens with qualities of self-governance and lifelong learning skills who are able to be leaders and contribute to society as a whole, insyaa' Allah
About the Speaker: Ann Ibrahim
Ann bt. Ibrahim, has been teaching children since the age of 12. Her proficiencies are a culmination of formal and independent study, research, private tutoring (including for special needs and gifted children), teaching, conducting public talks and workshops, as well as through homeschooling her three children (eldest now aged 13). She has also experienced practical implementation of various learning methods and observations of children through her late mother's work.
Al-Marhummah Tengku Angela Meriam bt. Tengku Besar Mahmud developed these methods in her personal tutoring classes which led to its use in the various schools she set up in Malaysia [she named it the MONDO Method (Man's Own Natural Development – Organised) ].
Continuing her late mother's work, Ann's study and interest in learning organically according to our fitrah resulted in the ilmMethod. The implementation of holistic learning is further grounded by her experiences as a registered nurse, midwife, teacher and regenerative agricultural consultant.

Ann has been featured in various magazines, (as well as authoring a parenting column and as panel midwife advisor) and has been invited to speak on television, radio and TEDx.
Urban Hijau:
Urban Hijau is a planned sustainable social enterprise, using permaculture as a means to unite people, generate profit and preserve the planet simultaneously.
Urban Hijau is more than just a simple garden, it is an attempt to be a real-life showcase of sustainability in the middle of the city. Located in Taman Tun Dr Ismail (TTDI), this social enterprise manages a unique half-acre acre site that produces organic fruits and vegetables for the wider community while educating them about the practices of permaculture.
Payments:
Please register with the link below:
If you have any other questions, you can email [email protected] or
WhatsApp +6012 366 5482 or +6019 252 5621.
Bank details
Maybank 564276524348
UHIJAU ENTERPRISE
Note: We advice all interested people to make payment soonest and send us the proof as well. This way you make a commitment and it make it easy for the organisers to arrange for preparations accordingly. 🙂 Thank you.