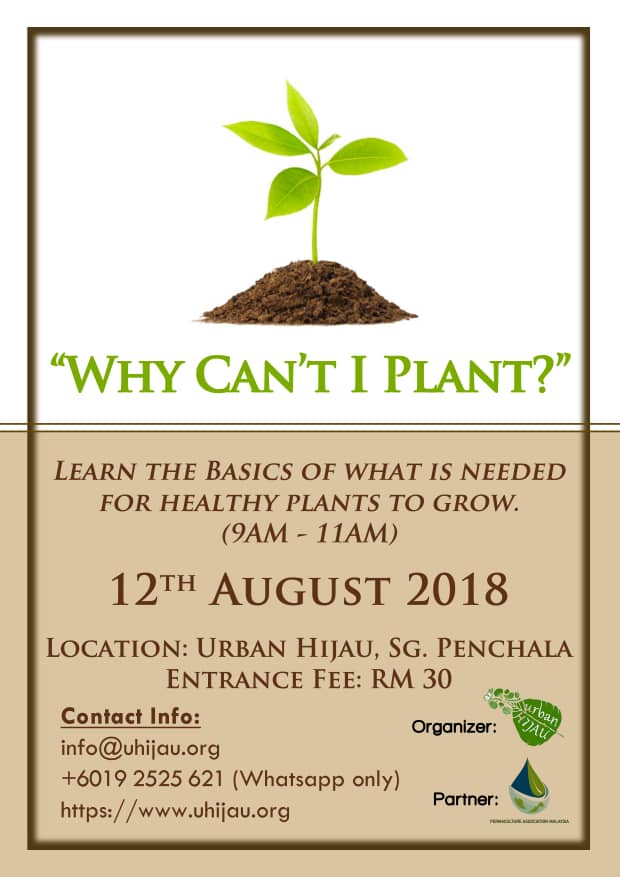 In Brief
Date: 12th August 2018
Location: Urban Hijau (Training Room), Sungai Penchala, Kuala Lumpur
Instructor: Muneeb Bin Yousuf
Time: 9:00am – 11:00am
Format: Introductory Session with Q&As
Fee: RM 30 / participant
*Registration will be at entrance at 8:30 am onwards.
Summary
Do you feel that it's hard to grow anything? Do you find yourself saying "Every plant that I touch dies…"? Do you want to understand the basics of how to grow something?
So many people come to us and claim that they cannot grow anything and everything they touch dies… Don't worry – as you are not alone… Even experts in the agriculture industry who make compost have come to us for help!
We are here to challenge that everyone can grow! Be it a small decorative  malabar spinach or even rice in a bucket (padi dalam baldi), you all can learn how to do things one step at a time.
This is a short introductory course and we will be covering some of the basics of healthy soil, watering systems and give some tips on how to start your growing journey.
We will share some simple examples and highlight things that need your care to help your plant grow and thrive.
Join us for this event this July 2018, to learn about some of the basics of growing.
Email us at [email protected] to confirm your attendance.